Criss Angel is having a hard time keeping his world records from being broken. Another record of his was just broken – escaping from a straitjacket upside-down. However this time the record was broken by a 17 year-old kid.
According to The Seattle Times, Alan Smola (pictured here with Angel) escaped last Friday from a straitjacket in less than two minutes. By completing his dangerous stunt in about 1 minute and 50 seconds, he broke the record of 2 minutes and 3 seconds set by Criss Angel on the "Oprah" show May 7. Suspended upside down 15 feet in the air at the Mattawan (Mich.) High School gymnasium and shackled in chains by his ankles. Congratulations Alan!
Houdini performed the escape in about 5 minutes.
It's important to note that escaping from a straitjacket is actually not very difficult and doing it upside-down makes the escape even easier. The most difficult part is making it look difficult. Houdini was a master showman and he was able to keep audiences in suspense for a long period of time. Houdini could escape very quickly, but chose to draw out the escape in order to build suspense.
We have faith that Angel can bounce back from this one and show that kid how the big boys do it.
Here's an old clip of the real master.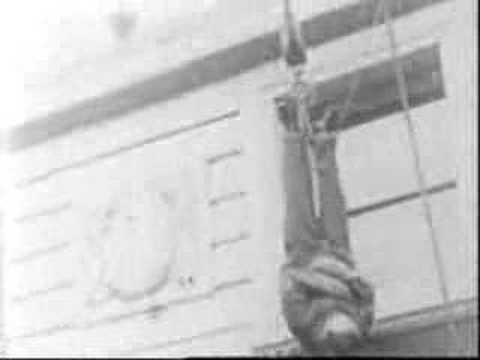 Showing up Houdini – not cool. Showing up Criss Angel – VERY COOL!